SYLVAIN DESPRETZ: A BIOGRAPHY IN ADVERTISING & FILM:
Sylvain Despretz is a freelance director-screenwriter with a background in art and illustration, working both in the United States and in Europe.
His formative years as an illustrator were mentored by the late world-renowned graphic novel artist Jean "Mœbius" Giraud.
ADVERTISING:
Sylvain walked his first steps in design and art direction at New York's prestigious BBDO advertising agency, where for a number of years, he contributed to the design of TV ads for clients including Pepsi, Gillette, and General Electric.
POP-PROMOS:
In Hollywood, he created storyboards for director David Fincher on Madonna's Like a Prayer music video sessions, and worked side by side with Pop Star Michael Jackson on concepts for his videos in the lead up to the release of the album Dangerous.
In the late '90s, Sylvain was hired by A-list director Ridley Scott (Scott Free/Black Dog/RSA,) and for a decade, remained a frequent contributor to his art departments on a number of projects in development, feature films, and commercials.
THE FILM INDUSTRY:
For two decades, Sylvain has brought his unique style of storyboards and concept art to the work of film directors Roman Polanski, Tim Burton, J.J. Abrams, Mike Newell, Darren Aronofsky, and Stanley Kubrick, among notable others. His name appears in the credits of several top-grossing motion pictures, all of which lean on a full grasp of Visual Effects, with their advantages and pitfalls, notably Planet of the Apes, The Fifth Element, Harry Potter, The Fountain, Alien Resurrection, and Academy Award winners Gladiator and Black Hawk Down.
NOW:
Sylvain has begun directing for advertising through Neo-Film, a Geneva based production facility specializing in the promotion of luxury goods.
He is represented by the Empire Agency, a European management company based in Berlin and specializing entertainment industry talent.
He is the creator of Cool Your Jets!, a short live action hardware/science fiction film, full of visual effects, being post-produced in Paris, France.
In addition, Sylvain has written two commissioned feature length screenplays, one of which was optioned for development by Paramount Pictures in the summer of 2012.
Sylvain works in Los Angeles, London and Paris.
DWR.
MANAGEMENT:
Empire Agency, IMDb Pro
/
Empire Agency, Berlin
Read more about Sylvain's work at the following links:
Internet Movie Data Base.
The Director's Guild of America's feature on Sylvain's storyboards for Ridley Scott's Gladiator.
DVD's and BluRays with Sylvain's commentaries, and featurettes about his storyboards:
Alien Anthology
Alien: Quadrilogy
Gladiator
Black Hawk Down
Books featuring Sylvain's storyboard and Concept work for major motion pictures:
Gladiator: The Making of the Ridley Scott Epic
The Making of Alien Resurrection
Black Hawk Down: The Shooting Script
Special Effects: An Oral History – Interviews with 37 Masters Spanning 100 Years
Movie Storyboards: The Art of Visualizing ScreenplaysAlien: the archive, by Mark Salisbury
Books Referencing Sylvain's work in film:
The Greatest Sci-Fi Movies Never Made, by David Hughes
Ridley Scott, by James Clarke
Documentaries featuring Sylvain's work:
The Death of Superman Lives: What Happened?
Interviews with Sylvain Despretz:
CG Channel Interview on the impact of the digital revolution on graphic Arts careers.
Jakob De Boer's Photo Essay and Interview for Leica Camera's Master Series (Part One) and (Part Two).
For a quick glance at Sylvain's illustrations from the past:
Small, White and Square
A selected list of creative teams Sylvain Despretz has joined on notable film projects:
GLADIATOR – Director: Ridley Scott, Production Designer: Arthur Max
EYES WIDE SHUT – Director: Stanley Kubrick, Production Designer: Les Tomkins
I AM LEGEND – (while in development) Director: Ridley Scott, Production Designer: Arthur Max
POMPEII – (while in development) Director: Roman Polanski, Production Designer: Allan Starski
BLACK HAWK DOWN – Director: Ridley Scott, Production Designer: Arthur Max
TRIPOLI – (while in development) Director: Ridley Scott, Production Designer: Arthur Max
THE FOUNTAIN – Director Darren Aronofsky, Production Designer: James Chinlund
HARRY POTTER & the Goblet of Fire – Director: Mike Newell, Production Designer: Stuart Craig
TRON "Legacy" – Director: Joseph Kosinski, Production Designer: Darren Gilford
THE NUTCRACKER – Director: Andrei Konchalovsky, Production Designer: Kevin Phipps
PLANET OF THE APES – Director: Tim Burton, Production Designer: Rick Heinrichs
RAY GUNN – (while in development) Director: Brad Bird
ALIEN RESURRECTION – Director: Jean-Pierre Jeunet, Production Designer: Nigel Phelps
THE FIFTH ELEMENT – Director: Luc Besson, Production Designer: Dan Weil
SUPERMAN REBORN – (while in development) Director: Tim Burton, Production Designer: Rick Heinrichs
MISSION: IMPOSSIBLE III – Director: J.J. Abrams, Production Designer: Scott Chambliss
VALERIAN and the city of a thousand planets – Director Luc Besson, Production Designer: Hugues Tissandier
CONTACT
: You may
send a contact email through this website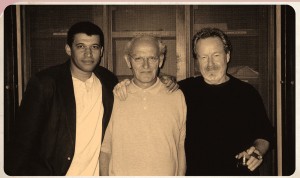 Biography courtesy of D.W. Rhodes, R & R, NY, NY