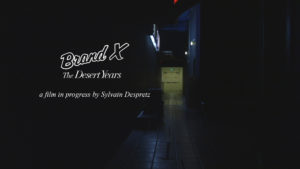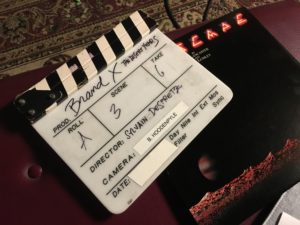 Brand X – The Desert Years : we've begun principal photography.
This film looks at the story of the mythic Jazz/Fusion/Prog band from the 1970's whose members recently regrouped after being "on hold" for nearly thirty years.
By reuniting in 2016, Brand X has become the longest living fusion band in the music business, outliving the likes of Weather Report, Mahavishnu Orchestra, Magma, to name only a few among its cousins.
The piece will feature extensive interviews with the many musical talents that have passed through Brand X, including John Goodsall, Percy Jones, Robin Lumley, Peter Robinson, Jack Lancaster, Scott Weinberger, Kenny Grohowski, Mike Miller, Chris Clarke, Kenwood Dennard, and Phil Collins.
The film will also showcase Brand X in the studio, and in concert, offering the viewer a front row seat to their stunning virtuoso performance.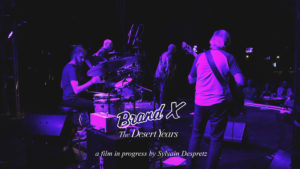 Brand X – The Desert Years examines the fate of the many players through their roughest patches, through the wilderness, as the musical landscape morphed from the 1970s into our present paradigm.
Brand X – The Desert Years
Produced and directed by Sylvain Despretz.
Cinematography (Los Angeles Unit) by Brian Hoodenpyle
(UK Unit) by Chris Jones & Thom Heald
With: John Goodsall, Percy Jones, Chris Clarke, Kenny Grohowski, Scott Weinberger, Jack Lancaster, Peter Robinson,
and Robin Lumley. Featuring some very special "surprise" guests.
Filming throughout North America and the United Kingdom, in 2017 and 2018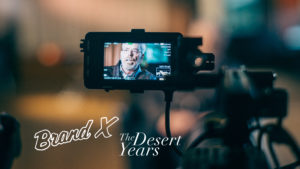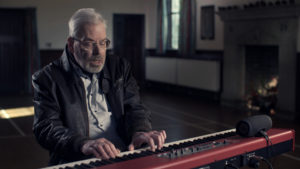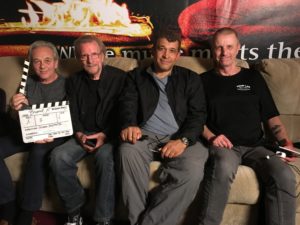 Completion anticipated for 2019.
Listen to some classic Brand X:
"Born Ugly" (recorded live in January 2017)
"Why Should I Lend You Mine, If You've Broken Yours Off Already?" (recorded Live in January 2017)
"…Maybe I'll Lend You Mine After All" (with Phil Collins) from the 1977 album Moroccan Roll
"Euthanasia Waltz" – from the 1977 album Moroccan Roll
"Malaga Virgen" – from the 1977 album Moroccan Roll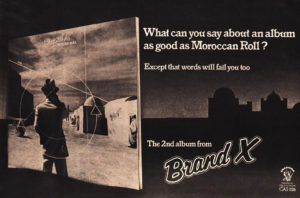 Watch Brand X reunited in a live performance – The Iridium, New York, 2017: