T  H  E      V  A  U  L  T
A gallery of production artwork from a former life.
Drawing pictures for Hollywood is a thing of the past, but you can still enjoy a glimpse of old classics, and some lesser known works. The illustrations in this section were executed for a distinguished ensemble of great film directors that includes Stanley Kubrick, Ridley Scott, Roman Polanski, Walter Hill, Tim Burton, Jake Scott, Kevin Connor, Andrei Konchalovsky, and Darren Aronofsky, Brad Bird…
Thanks for treading carefully!
VIDEO BLAST FROM THE PAST: watch the Gladiator Storyboard Demonstration & Commentary, ©2000, DreamWorks, SKG/Universal Pictures.
Commentary feature directed by Charles de Lauzirika for Scott Free DVDs and DreamWorks SKG.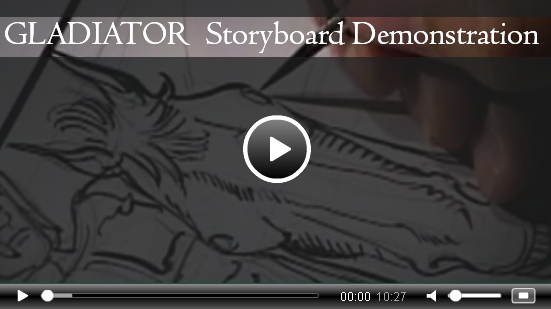 More film illustration by Sylvain Despretz is on display at Small, White and Square.